Farmers Market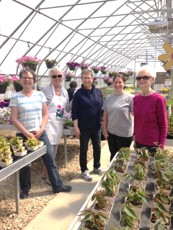 Project GREEN at the Iowa City Farmers Market (Chauncey Swan Parking Ramp)
Wednesdays, 5 pm – 7 pm
Saturdays, 7:30 am – noon
May 1 through June 30
Project GREEN will have a table at the Farmers Market during May and June to sell plants and promote awareness of our group's mission.
We'll have a selection of healthy, easy-to-grow plants, and Project GREEN members will be on hand to answer any questions you might have about how to grow them. If your garden could use something new, stop by and check out what we have — you might just find your new favorite plant, and you'll be supporting a good cause with your purchases!
Project GREEN also needs volunteers to help at the table for a couple hours. If you'd like to sign up to volunteer at our table, please contact:
Lorie Leo
lleo@southslope.net
(319) 626-6144

And if you're dividing plants in your garden or starting seeds, and have a few extra (non-invasive, non-aggressive) plants, please feel free to bring them to the Farmers Market and drop them off at our table (sorry, but the FM does not allow plastic bags; small paper bags are OK, or potted up in re-used plastic pots is great). Thanks for your horticultural donations!
Or just stop by our table and say "hi" to our friendly volunteers!