Garden Forums
Every winter, Project GREEN hosts a series of three educational presentations about gardening and environmental topics. These are held at the Iowa City Public Library, and are free and open to the public.
Our 2021 Winter Garden Forums will look much different from those in previous years, but very recognizable to all of us who have been connecting with family, friends, and social groups through technology. Our forums will be virtual, coordinated through the Iowa City Public Library, and have a similar format to our live meetings of the past: a one-hour presentation followed by a Q&A. (We haven't found a way to Zoom cookies and coffee, so you are on your own during a shortened break.)
To register for each forum: please go to https://www.icpl.org/events/ages/adults and click on each event you wish to virtually attend.
Past Garden Forum presentations can be viewed online at the Iowa City Public Library's Library Channel.
The 2021 Garden Forums
SUNDAY, JANUARY 10, 2021, 2 p.m.
BRUCEMORE
We will open our series on Sunday, January 10, 2021, with an update on Brucemore, the National Trust Historic Site in Cedar Rapids that was slammed during the devastating derecho of August 10. The hurricane-force winds that swept across the estate damaged seven historic buildings, as well as gates and statuary, and destroyed more than 70 percent of the tree canopy. With slides and commentary, a Brucemore representative will detail the damage and plans for recovery.
For the past one hundred years, Brucemore's landscape has served as a living record of the history of the estate and the work of the well-known landscape designer Ossian Cole Simonds. This site's story is a lens to the past and a reminder of the people, the events, and the drive that shaped the local community. Despite the devastation, thoughtful consideration and planning have begun to move forward in restoring Brucemore. Please join us at 2 p.m. to see and hear about the latest developments.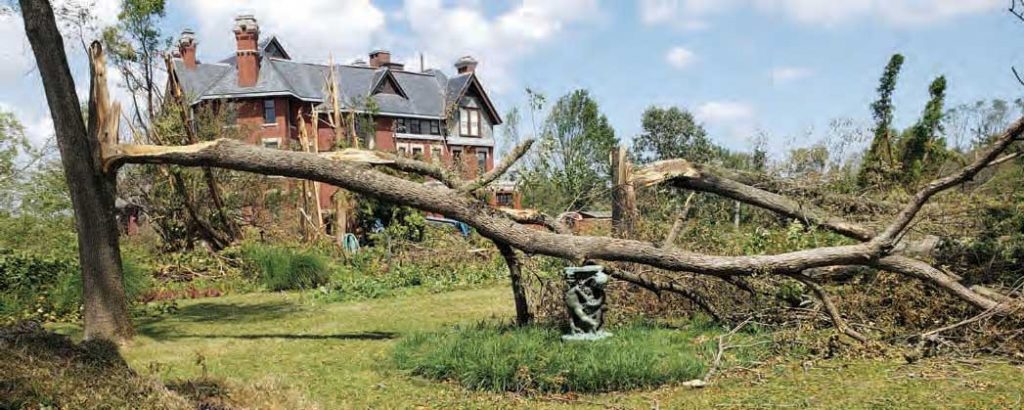 SUNDAY, FEBRUARY 14, 2021, 2 p.m.
LOVE AND SEX IN THE GARDEN
On Sunday, February 14, 2021, at 2 p.m., grab your sweetheart and tune into our special Valentine's Day presentation by a favorite Project GREEN Forum speaker, Dr. Donald Lewis, whose timely topic is "Love and Sex in the Garden."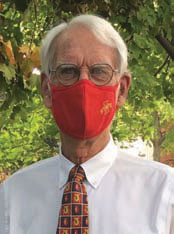 Although we think of our gardens as peaceful places, look closely and you'll see a fair bit of rowdy behavior—sex! Plants have sex (through pollination) to reproduce, that is, to produce seeds. Plants are stationary, rooted in place, and unable to travel to a potential mate (and no "Tinder" for plants). Instead, many plants use intermediaries to accomplish the essential, sometimes promiscuous, process of sexual reproduction. Enter the pollinators! Dr. Lewis will help us examine the common pollinators in Iowa, their identification, challenges, and preservation.
Dr. Lewis, a professor and extension entomologist in the Department of Entomology at Iowa State University, is responsible for outreach education on insect pest management in turfgrass, trees and shrubs, fruit, vegetables, and households. He provides problem-solving identification and information to Iowans through the ISU Plant and Insect Diagnostic Clinic, and teaches two online introductory entomology courses for ISU students. Dr. Lewis is also a frequent guest on "Horticulture Friday" with Charity Nebbe on Iowa Public Radio.
SUNDAY, MARCH 14, 2021, 2 p.m.
IOWA GARDENS OF THE PAST
On Sunday, March 14, 2021, at 2 p.m., we are especially pleased to announce we will feature a local author and Project GREEN volunteer: Beth Cody will give a presentation on the history of ornamental gardening in Iowa, illustrated by a slideshow of beautiful vintage gardens and colorful seed catalogues from her 2020 book, Iowa Gardens of the Past: Lost and Historic Gardens of Iowa, 1850 to 1980.
Iowa gardens are conspicuously absent from landscape-history books, but Beth discovered that Iowa has had many beautiful gardens, miraculously preserved in garden photos and illustrations. She compiled images and history of numerous Iowa gardens: grand and modest, in small towns and on turn-of-the-century farms, those of well-known garden writers, hybridizers, and horticultural entrepreneurs. With her presentation and in her book, Cody rescues Iowa's gardening history from obscurity.
Beth's book is available at www.iowagardens.com and would make a wonderful holiday gift. It's a delightful read and may spark great memories of your grandma's garden.
Born and raised in Ames, Beth has lived in the Iowa City area for more than twenty-five years. She and her family (and seven hundred garden books) reside in a ninety-five-year-old farmhouse on their five acres in Amish country. She's a local business owner and an avid amateur gardener who usually can be found working in her garden, thinking about her garden, or reading garden books. Beth writes a garden blog at gardenfancy.blogspot.com and volunteers with Project GREEN.