WANTED: Your Garden
Thank you for your interest in sharing your garden in Project GREEN's Open Gardens Weekend 2023, July 8-9! We hope to again provide a FREE, enjoyable and informative event for garden visitors, as well as raise money for our community and school beautification projects.
The 2022 event was a wonderful success, with numerous positive comments from garden visitors — including some who were inspired to begin gardening themselves. The event allowed them to see and learn from many beautiful gardens. But most important was being able to chat with friendly, encouraging garden owners. Sharing your garden can make a difference!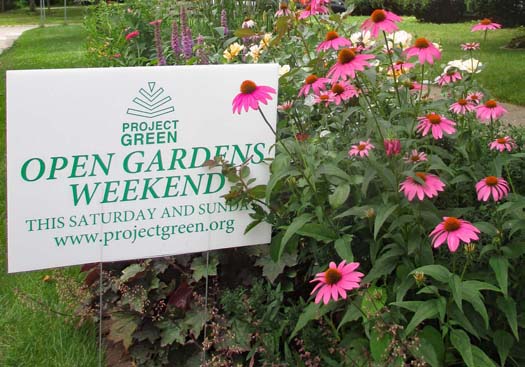 Your willingness to open your garden will result in a more beautiful community.
Here are a few guidelines that may be helpful (we'll send you more information after the signup deadline of June 15):
• The Open Gardens Weekend will be July 8 & 9, 2023: Saturday evening, 4 p.m. – 8 p.m. (4 hrs) and Sunday morning, 10 a.m. – 2 p.m. (4 hrs)
• We encourage garden hosts to open their gardens on both days so that every visitor has an opportunity to see all the gardens, but if you are only able to open your garden for one of the days (or, for instance, only 12-2 on Sunday), please specify that in the Special Instructions box.
• Any resident of the greater Iowa City / Coralville area (including outside city limits for the first time!) who is excited about gardening and proud of their gardening efforts may open their garden. There are no qualifications concerning size, perfect weed-free maintenance or professional design. Project GREEN wants to offer visitors a wide variety of gardens to see and learn from.
• We ask only that you make a reasonable effort at visitor safety, by common-sense steps like making sure paths are clear of items that people can trip over, etc. Project GREEN will carry insurance for the event, but if you're uncertain about the safety of your garden, a Project GREEN member will be happy to stop by and take a look. We'll send you a list of preparation tips well before the event.
• If there's a part of your garden that's not ready for visitors, just put a rope and note across it.
• Because people are more likely to visit streets with multiple gardens for convenience, if you know of any other nice gardens in your neighborhood, please print out a copy of this flyer and leave it for the homeowner, or print out a questionnaire for them to mail in. We appreciate your help in spreading the word!
• We'll let you know when to pick up your Open Gardens sign at Ashton House prior to the event.
• If an emergency arises and you can't open your garden for part or all of the weekend, remove your Open Garden sign. Posting a note explaining that an illness, etc. has occurred will help visitors to understand that they did actually find the right address, but that your garden just can't be open.
• We're planning a way for garden hosts, if interested, to be able to informally visit the gardens too, perhaps the week after the tour. We know you don't want to miss out; we'll be in touch with all the hosts to figure out how best to do this.
• Have fun talking with the many appreciative visitors who will stop by to see your beautiful garden!
If you'd like to open your garden, please fill out the Questionnaire by June 15, 2023, in order to be included in the Open Gardens Map. If you have any questions, please email or call one of us at our Contact page numbers.
We thank you for your generosity in sharing your garden and making the Open Gardens Weekend a fun and successful event!
Best Regards,
Cindy Parsons and Diane Allen, Co-Presidents of Project GREEN