Why don't we just put the maps online?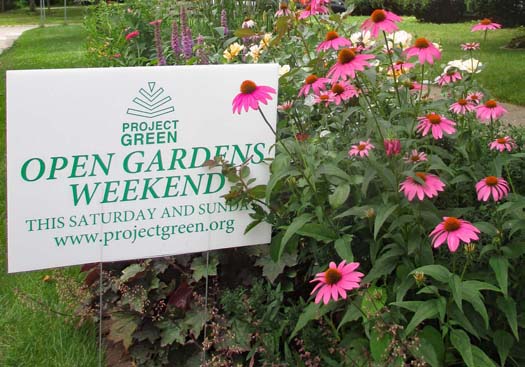 Project GREEN is sometimes contacted by people who ask: Why don't we simply put the maps listing the gardens for the Open Garden Weekend online?
That would be much more convenient for visitors than having to stop by a local business to get a copy of a printed paper map, right?
But visitors aren't paying for the event — our Local Business Sponsors pay for it, making it FREE for visitors. And people stopping by a business to pick up maps is good for the business, giving local business owners an incentive to support the event. (Even if you don't buy something when you pick up your map, you are now more familiar – and happy – with their business. This is definitely good.)
The old Project GREEN garden tours used to cost $10/person, and we could only offer 4-5 gardens, because volunteers (always in short supply) were needed to sell tickets at each garden. The new Open Gardens Weekend offers a much better model: more gardens, FREE of charge!
Old Project GREEN Garden Tour model:
$10/person charge to visit gardens ($20/couple: this left out many families on budgets)
only a few gardens offered
volunteers harder to find each year
raised money for Project GREEN through ticket sales
New Open Gardens Weekend model:
FREE for visitors = more attendance, everyone can attend
numerous gardens offered, often 30+ (and more interesting gardens too, as anyone in IC or Coralville can choose to share their garden, without being picked by a committee)
more gardens = less crowded, more chance to chat with garden hosts, learn something, be inspired
few volunteers needed (other than our generous garden hosts!)
raises money for Project GREEN and covers event costs through Local Business Sponsors
good advertising and more traffic for local businesses: A win-win-win situation for everyone
So when you stop by one of our Local Business Sponsors to pick up your map, please be sure to thank them for making it possible for everyone to enjoy visiting numerous lovely (and sometimes quirky) gardens — and raise money too for Project GREEN's mission of making our community an even more beautiful place to live and work!
Thank you for your support for Project GREEN and enjoy the gardens!