Hi All,
It was a quiet, cool morning when nine Project GREEN volunteers met this past Monday from 9 – 11 a.m. Our first task was to check the two rain gauges, one in front and the other behind the Ashton House. The totals were very close, 0.8 inches in front and 0.75 inches in back. This was very good news!
Those in attendance were: Monica Hoherz, Dhyana Kaufman, Susan Ahrens, Rina Sjolund, Mary McCarthy, Evelyn Frey, Pat Yeggy, Cindy Parsons, and moi. We had a long list of goals for our two hours together, all easily accomplished by Project GREEN volunteers. We watered and fertilized seven containers, cut down peonies along Normandy Drive and the Nancy Seiberling bed, deadheaded flowers, and continued to pull weeds around the Ashton House. We left lots of debris for city employee Steve Erickson and crew to clear away. Thanks Steve!
Here is our photo album for Week 15: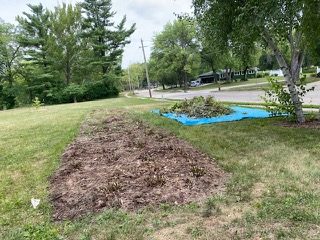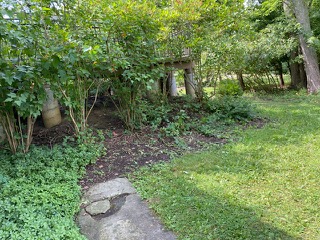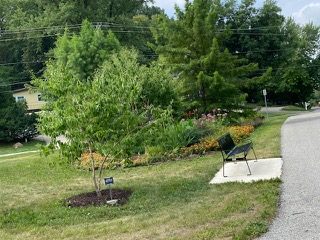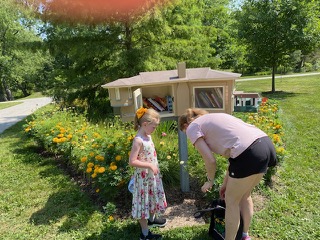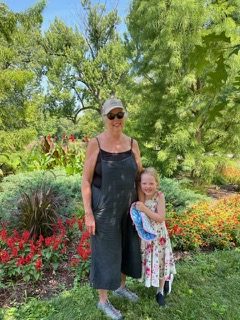 There are many beautiful spots to take a fun, family picture. This picture was taken on the east side of the Triangle bed that is in full sun all day. On the bottom left side is red salvia with profusion zinnias on the right. Providing height to the bed are juniper bushes, fountain grass, canna lilies, and more.
Here are the numbers after Week 15 at the AHPGG. Weeks 1 – 14 + Week 15 = 600 hours + 18 hours = 618 hours for Project GREEN 2023 volunteer hours! Many thanks to you all.
Our next work session will be Monday, August 14 from 9 – 11 a.m. Until then, happy gardening! Diane