Hi All,
Things got a little complicated last week when I cancelled our Monday work session and rescheduled to Wednesday, August 16. It's hard to anticipate rain for our beloved AHPGG when I live 18 minutes (8 miles) away. Remember I will always cancel/reschedule by 7:30 a.m. It makes life exciting to follow these rules!
Week 16 had 11 Project GREEN volunteers, many at varying times. Two volunteers chose their two hour work session on Monday or Tuesday. Eight volunteers worked Wednesday from 9 – 11 a.m. One volunteer worked an extra 1 1/2 hour. Saturday, 8/19, two volunteers worked an extra two and one-half each from 7:30 – 10 a.m. Those in attendance were: Monica Hoherz (Monday), Linda Schreiber (Tuesday) , Mary McCarthy, Jim Peters, Mary Laughlin, Lisa Haverkamp, Hetty Hall, Dhyana Kaufman, Bill Blair (Wednesday & Saturday), Laura Hawks (Saturday), and moi. Two Saturday volunteers worked 2 1/2 hours each. Wow! If I missed anyone, please let me know.
Our morning together was delightful! We checked the rain gauges to discover 1.5 inches in front and 1.8 inches in back were collected since we last met, August 7. Our tasks included: watering/fertilizing seven containers, watering ligularia and new plantings, clearing the west side of ramp leading to house, weeding flower beds, tending to all seven Dashes, and enjoying each other's company. We left a lot of debris for Iowa City Parks and Recreation employees Steve Erickson and crew to collect and take to the landfill. Many thanks!
The following are our pictures from Week 16 at the AHPGG: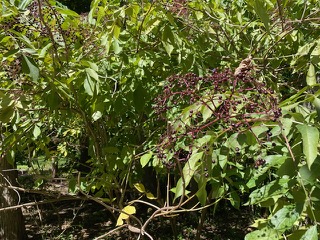 An Elder Tree is planted directly west of the Ashton House. It has an ID at its base. The tree is full of berries and I'm sure birds are enjoying them. According to lovetoknow.com this tree is "Known for its highly versatile berries, The Elder tree has legions of fans the world over. In addition to being prized among herbalists and chefs, who are endeared to the tree's fruit, the Elder is also popular among landscapers. The tree's shrub-like shape makes it easy to prune and cultivate. What's more, the pretty blossoms and gorgeous green leaves bring beauty and elegance to yards and parks." The Elder tree can grow to 30 feet tall although most types average a height of 15 feet.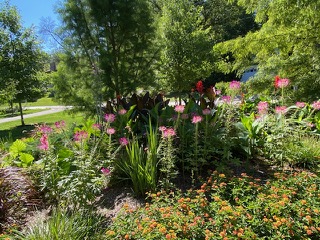 The Triangle flowerbed continues to grow and provide beauty to its landscape. Pink Cleome hassleriana (spider flower) is blooming now and will self-seed again next year.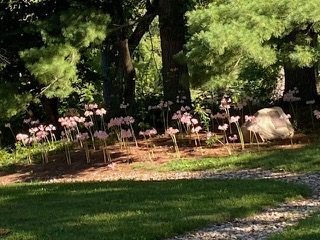 Our picture of the week shows surprise lilies in bloom on Jim Maynard's berm. The berm located on the north side of the Ashton House includes a boulder with plaque honoring Jim's Project GREEN beginnings. The North Carolina Extension Gardener states, "The surprise lily is a perennial bulb in the Amaryllis family, and it is the hardiest of all the plants in the Lycoris species. The bulbs are about 3 inches in diameter and have long necks and can persist for many years once established. The foliage emerges in late winter to early spring with silvery gray greenish strap-like leaves that measure 12 inches long and 1 inch wide and grow in clumps. The foliage dies away in late spring. In late summer to fall, the surprise lily emerges like magic and produces 5 to 7 four inch pale pink trumpet-like blooms atop the t foot tall stalks." These plants, which originated in Southeast China, Japan, and Korea, have been available in the United States since the 1880's. Project GREEN likes plants that are MAGIC!
Bill Blair and Laura Hawks walked the Gardens early Saturday (8/19). Their goal was to label plants to remain in north beds where Project GREEN volunteers have not worked. Laura tells me everything should be removed except the marked plants. Thanks to Bill and Laura for their early Saturday morning Project GREEN volunteering (7:30 – 10 a.m.).
Here are our numbers after volunteering at the AHPGG for sixteen weeks. Weeks 1 – 15 + Week 16 = 618 hours + 26 1/2 hours = 644 1/2 hours for our 2023 Project GREEN volunteers! Many thanks to our volunteers who continue to make the AHPGG a beautiful and inviting park to visit.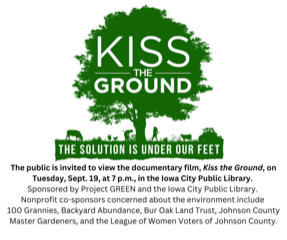 Please mark your calendars for the showing of "Kiss the Ground" at the ICPL September 19, 7 p.m.
It will be a hot day for our next work session, Monday August 21. We will meet from 9 – 11 a.m. There are bottles of water in the AH garage to help us keep hydrated. Please help yourself! Until then, happy gardening! 💚 Diane