Hi All,
Week 26 began with 52-degree weather and 0-inches of rain since last week's work session. Eleven amazing gardeners were in attendance as we began our long list of to-do items.  
Our list included digging canna lilies and elephant ears to safely over-winter and replant in spring. These 2023 plants were located in our Dash gardens, The Triangle garden, a few of our front porch area containers, and Evelyn's corner. They all survived the 2023 drought conditions very well.  Here are directions to follow for wintering the canna lilies:
https://womanswork.com/garden-gloves-blog/2020/11/11/overwintering-tropical-plants-such-as-canna-lilies-colocasia-and-alocasia/
and elephant ears: https://ask2.extension.org/kb/faq.php?id=776443  
Or try searching for "over wintering canna lilies and elephant ears" yourself. There's lots of information available.  
Volunteers placed the rhizomes and bulbs in buckets to easily transport to their winter homes.
Mulch work was completed and our last hose put away.
Our very competent gardeners had enough time to pull annuals from the ground in their 2023 homes: The Triangle, Quilt, Mary's Tree, The Circle, front porch area containers, and Evelyn's corner.
We left mountains of debris for Steve Erickson and crew to gather for their final resting ground, the Iowa City Landfill.
When all was finished it was 10:57 a.m. We completed the LONG list of work with three minutes to spare.
As I have mentioned many times, our Project GREEN volunteers are a special group. Our week 26 list of gardeners were: Lisa Haverkamp, Rina Sjolund, Pat Yeggy, Jim Peters, Susan Ahrens, Dhyana Kaufman, Sue Mullins, Monica Hoherz, Hetty Hall, Evelyn Frey, and moi.    
Our pictures tell the AHPGG story for week 26, our final 2023 work session: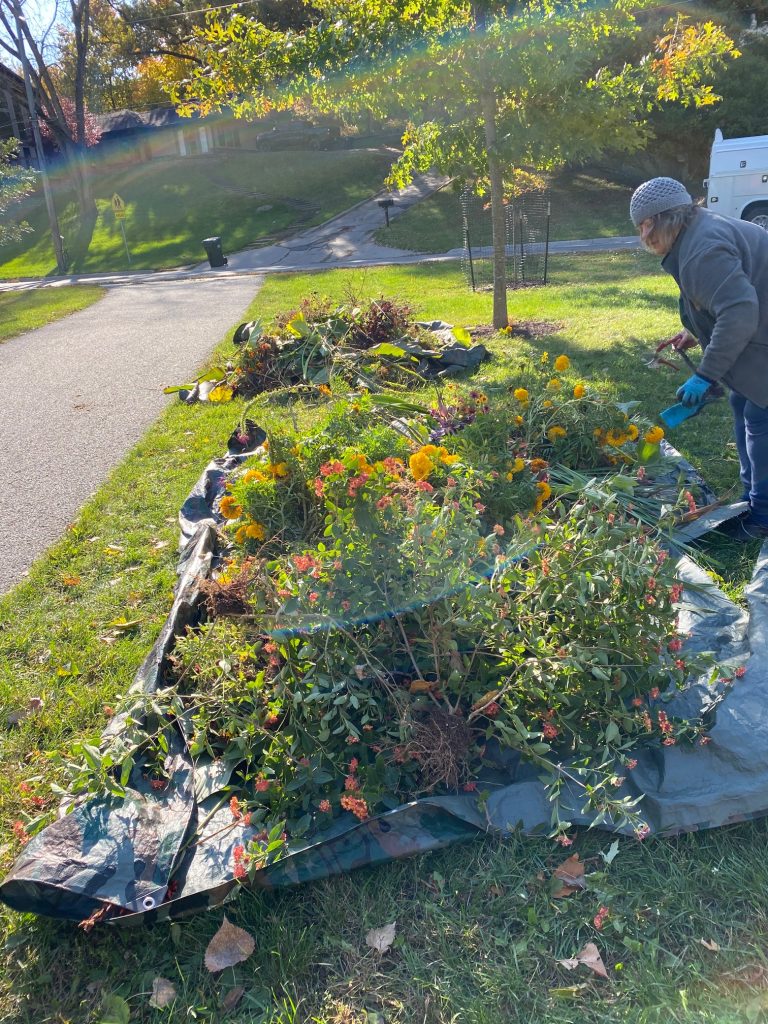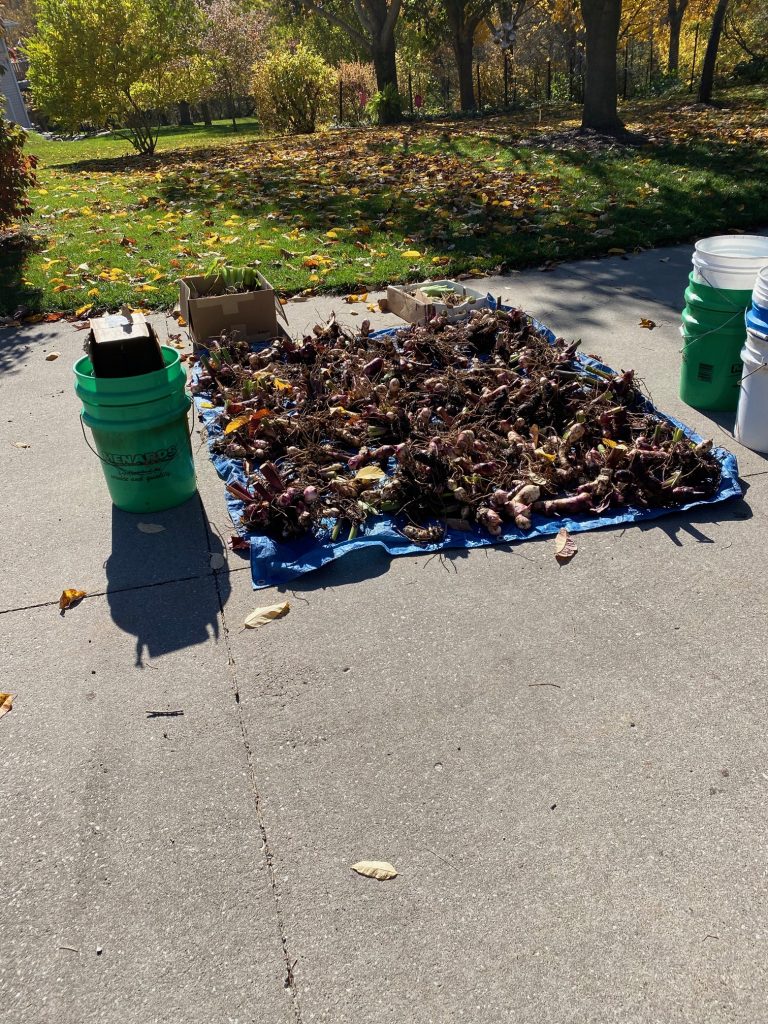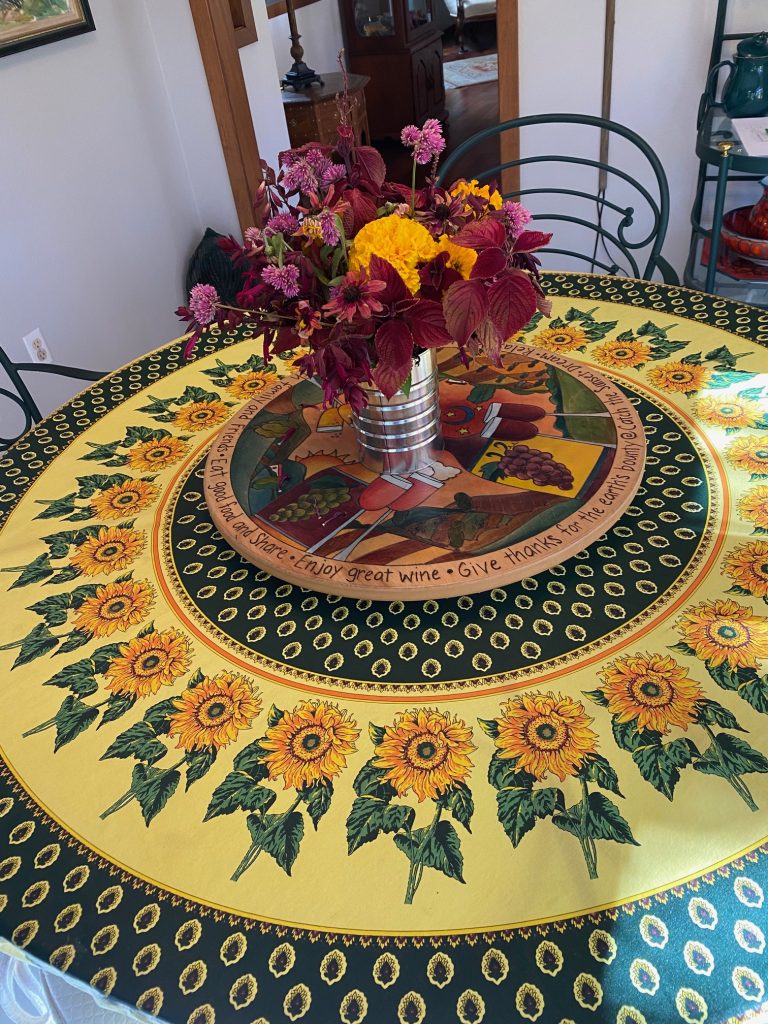 Sue Mullins brought me a lovely bouquet made with cuttings of the AHPGG annual plants. It's still just as fresh three days later. Thanks Sue!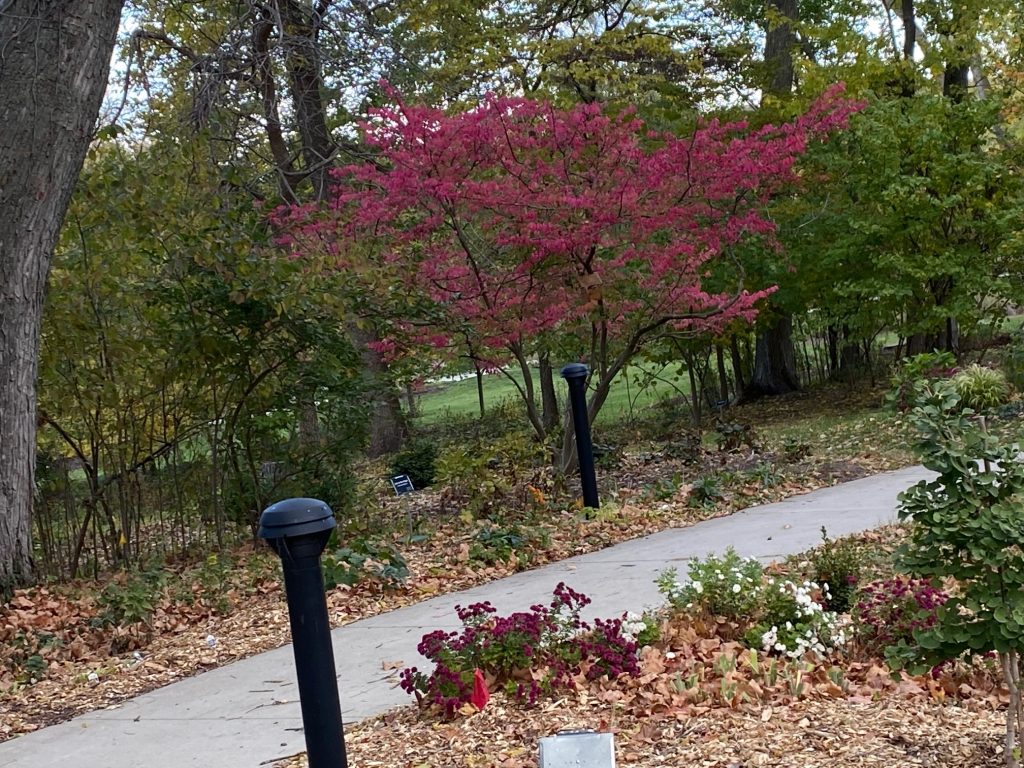 Here are the numbers after 26 weeks volunteering at the AHPGG. Weeks 1 – 25 + Week 26 = 905 1/2 hours + 22 hours
= 927 1/2 hours for 2023 Project GREEN volunteers!
It's been a wonderful season working alongside this merry-band of gardeners. As our plants grew so have our friendships.
Here are dates for future events:
Monday, November 6 - 2024 Garden Party planning committee will meet inside the Ashton House beginning 9 a.m. Bring your own beverage and expect something yummy to eat. Anyone is invited to help plan, so bring a friend or two.
Monday, November 13 - **Celebration brunch for Project GREEN volunteers** beginning 9 a.m. at Diane Allen's, 2752 Hidden Valley Trail NE, Solon. Any questions call 319-430-6649. Anyone who has volunteered during 2023 is invited! So far our menu is: sausage egg casserole, spinach egg casserole, fruit salad, coffee, hot tea, mimosas.
Please let me know if you do not receive the Project GREEN newsletter. Cindy Parsons and I are hoping to have it in the mail by the end of November.
P.S. Our next work session will be held Monday May 6, 2024 from 9 – 11 a.m. at the AHPGG. SMILE!